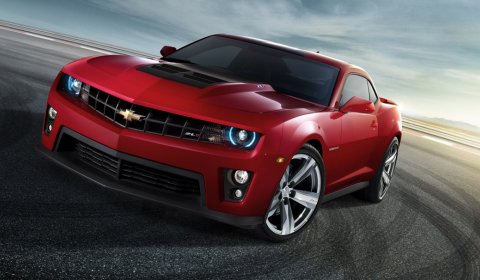 The 2012 Chevrolet Camaro ZL1 debuted today at the Chicago Auto Show and is the highest-performing Camaro ever created. The new ZL1 continues the momentum of Camaro and is planned to launch at the beginning of 2012.
Performance comes from a supercharged LSA 6.2 liter V8 engine producing an estimated 550 horsepower and 677Nm of torque. The Camaro ZL1 will be the fastest Camaro ever offered by Chevrolet. The ZL1 features technologically advanced chassis and suspension systems that help it deliver balanced, track-ready handling and braking power to complement its high engine output. Development of the ZL1 is ongoing, and official estimates of the car's capabilities will be released later in 2011, as testing nears completion.
The ZL1 name is derived from the all-aluminum racing engine of the same name, which was developed in the late 1960s and installed into a handful of regular-production 1969 Camaros. Only 69 were built with the engine, but they've achieved mythical status among enthusiasts, as they represented the pinnacle in Camaro performance. The 2012 ZL1 model is designed to be a major leap forward for the Camaro, bringing a new level of performance capability.
The central goal of the car's development was creating something new – a Camaro intended to reach optimal lap times on top road-racing circuits and excellent driving dynamics on the street. To achieve that goal, engineers evolved many of the existing Camaro's systems, as well as incorporated new technologies such as electric power steering and Magnetic Ride Control.
Rather than using decorative elements, ZL1 is visually differentiated from other current Camaro models. Major elements of the ZL1's design are a new front fascia and hood with air extractors, designed in tandem to create aerodynamic downforce to aid handling. The car's hood includes a signature center section constructed of carbon fiber and rendered in satin black finish. New rocker panels, wide tires, 20 inch wheels and exhaust tips portray the car's handling and power. The ZL1 badge appears on the grille, hood and the brake calipers.
All of the Camaro exterior colors will be offered with the ZL1, but black is the only interior color. The unique exterior features are complemented with a black center section on the hood. Inside, the Camaro ZL1 has heated leather seats with microfiber inserts and ZL1 logos embroidered on the front headrests. Microfiber suede is repeated as an accent on the instrument panel, adding a richer look to the interior.
The ZL1 will include the same content as the current 2SS package and include the following new or unique features six-way power driver and passenger seats, unique instrument panel and door panel inserts and ZL1-logo sill plates, steering wheel audio controls with Bluetooth capability, wireless PDIM and USB-port, Boston Acoustics premium audio system, rear parking assist and a rear camera system (displayed in the inside rearview mirror).