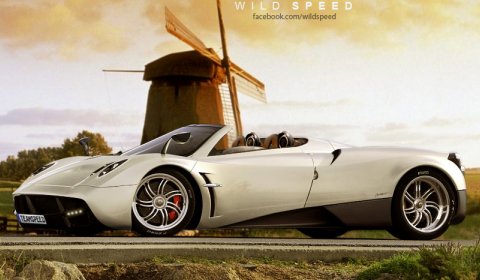 After the long awaited official introduction of the Zonda sucessor last week, more Pagani Huayra news makes it onto the web every day since. We captured some of the most important new facts about the Pagani Huayra in this update post.
The render seen above, made by Teamspeed member Wildspeed, shows a Pagani Huayra Roadster in a Dutch landscape. A Roadster version of the Pagani Huayra is definitely in the pipeline and could be introduced as early as the Geneva Motor Show next year.
Evo shared some interesting information regarding the gearbox in the Pagani Huayra. The new seven-speed gearbox for the Huayra is developed by the British racing specialist Xtrac. Xtrac is the number one gearbox developer and supplier for the racing industry, including F1, BTCC and Le Mans. In 2008 they were approached by Pagani with the request to develop a gearbox for the Pagani Zonda R.
The succesful development of the Zonda R gearbox led to the development of the gearbox for the Huayra. The whole gearbox is remarkably compact, which has a number of benefits including keeping the weight forward as much as possible and allowing space for the exhaust, rear crash structure, underfloor diffuser and it allows the designers more styling flexibility in general.
As yet there's no word on how fast it'll change gear, but Xtrac admitted they have altered the gearing to allow the Huayra to hit 60mph in first gear. It will also have an auto function for when the driver prefers to loaf around. Two cars have been testing with the gearbox since last June and at the end of January testing was being carried out at Nardo to calibrate the gearbox.
Final news that reached us is about the introduction of the Pagani Huayra: The premiere for the press and public will be during the Geneva Auto Salon 2011 starting 1st of March 2011. After the Geneva Motor Show a series of customer events will be held in Italy where potential customers can see the car up close and personal.