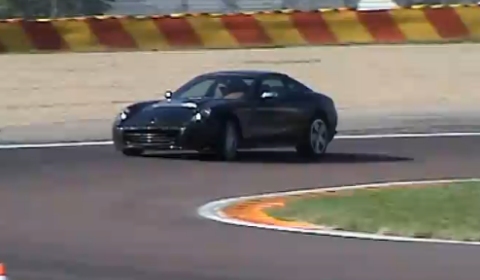 Recent speculation fed by sources from within Ferrari and its CEO suggest Ferrari will launch the new Ferrari F151 (codename for the 612 Scaglietti successor) at the upcoming Geneva Motor Show 2011. A number of innovations will be incorporated in the new Ferrari flagship GT. It will be lighter, stiffer and resembling the style of the Ferrari 458 Italia.
Specific features that are planned to make their appearance on the F151 include the performance-oriented all-wheel-drive gear. This electronically controlled system employs a second clutch to engage the front wheels when the driving-wheels slip. Another feature we are likely to see on the F151 at some point is Ferrari's hybrid HY-KERS system. The F151 is expected to be powered by a new 6.3 liter V12 paired with Ferrari's seven-speed DCT transmission.
Stay tuned for more on the new Ferrari F151 prior to the unveil at the Geneva Motor Show 2011.
[Via Jalopnik]