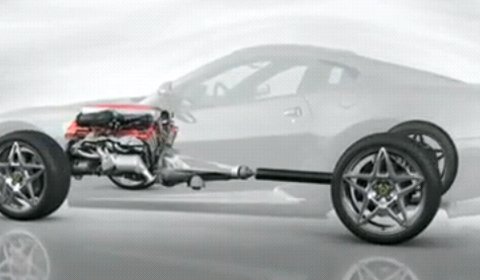 Ferrari showcaased its 599 GTB Hybrid concept at the 80th edition of the Geneva Motor Show. A new video shows the hybrid technology more in-depth.
The HY-KERS setup is an example of how Ferrari is studying the application of hybrid technology to high-performance sports cars. Central to Ferrari's objectives is maintaining the balance, handling and performance characteristics typical of its cars despite the inevitable disadvantages in terms of weight represented by applying hybrid solutions to existing models.
Weighing about 40kg, a compact, tri-phase, high-voltage electric motor of the HY-KERS is coupled to the rear of the dual-clutch seven-speed F1 transmission. It operates through one of the transmission's two clutches and engages one of the two gearbox primary shafts. Thus power is coupled seamlessly and instantaneously between the electric motor and the V12. The electric motor produces more than 100hp.
Under braking the electric drive unit acts as a generator, using the kinetic energy from the negative torque generated to recharge the batteries. This phase is controlled by a dedicated electronics module which was developed applying experience gained in F1.