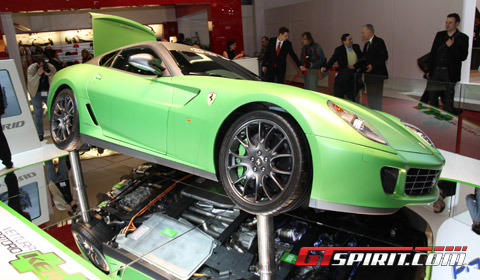 Ferrari 599 Hybrid is the name we are familiar with. Ferrari speaks about the HY-KERS vettura laboratorio (experimental vehicle). The vehicle is an example of how the Italian manufacturer is approaching the development of hybrid technology into its future products.
Ferrari has employed its racing experience into a new hybrid drivetrain outfitted to a 599 GTB Fiorano. The flat lithium-ion batteries are positioned below the floorpan. The result is a centre of gravity that is even lower than in the standard car.
Weighing about 40kg, the electric motor of the HY-KERS is coupled to the rear of the dual-clutch seven-speed F1 transmission. It operates through one of the transmission's two clutches and engages one of the two gearbox primary shafts. The electric motor produces more than 100hp. Under braking the electric drive unit acts as a generator, using the kinetic energy to recharge the batteries.