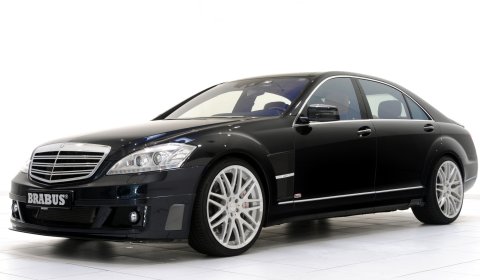 German tuner Brabus has revealed the Brabus SV12 R Biturbo 800 which transforms he Mercedes S 600 in latest BRABUS specification into the world's most powerful luxury sedan. With an electronically limited top speed of 350km/h (217mph) the four-seater also is the world's fastest luxury liner. Brabus also included a sporty yet elegant designer suit, custom-tailored wheels with diameters of up to 21 inches, a high-performance brake system and customer-specific interior upgrades including the "iBusiness" multimedia system with Apple components.
Displacement of the V12 engine that normally powers the latest Mercedes 600 models is increased from 5.5 to 6.3 liters (336 to 385 cu. in.) The displacement increase is the product of a special crankshaft with longer stroke, precision-balanced piston rods, larger-diameter pistons and corresponding larger cylinder bore. The inner workings of the engine are modified further by camshafts and flow-optimized cylinder heads.
The new air intake was custom-developed to fit in the available space under the hood of the S-Class. The combustion air is routed through a special carbon-fiber system. Also newly developed was the Biturbo system with two special manifolds with integrated turbine housings and turbochargers. The system also includes four water-to-air intercoolers. The stainless-steel high-performance exhaust system with sport catalysts and four exhaust tips with Brabus-characteristic design optimizes power yield and gives the engine a more dominant exhaust note.
The SV12 R Biturbo 800 engine produces 800hp (788bhp/588kW) at 5,500rpm and an even more impressive peak torque of 1,420Nm (1,047lb-ft), available from a low 2,100rpm. For technical reasons peak torque is limited electronically to 1,100Nm (811lb-ft). Power is transferred to the rear wheels via a reinforced five-speed automatic transmission. A limited-slip differential with a locking rate of 40 percent is available as an option. Acceleration times from 0 to 100km/h (62mph) of 3.9 seconds and of just 10.3 seconds to 200km/h (124mph) are standard as is the electronically limited top speed of 350km/h (217mph).
To ensure that this level of performance can be enjoyed safely at all times the German tuner also significantly upgrades suspension, brakes and aerodynamics. These upgrades also include tires capable of handling the speeds this car is capable of. The SV12 R Biturbo 800 can be equipped with Brabus Monoblock wheels with diameters ranging from 19 to 21 inches. The largest version features wheels in size 9Jx21 on the front axle and in size 10.5Jx21 in the rear. These wheels are available in four distinct designs: Three-piece forged and high-gloss polished Brabus Monoblock VI wheels with six double spokes, multi-spoke Monoblock E wheels, Monoblock S wheels with double-spoke design and especially exclusive Monoblock F Platinum Edition forged wheels with cross-spoke design. All wheels are mounted with Pirelli or Yokohama tires in sizes 265/30 ZR 21 in front and 295/30 ZR 21 on the rear axle.
To further improve the driving dynamics of the luxury sedan Brabus developed an electronics module for the Active Body Control suspension that lowers the ride height by some 15 millimeters (0.6 inches).
The new brake system features per brake 12-piston aluminum fixed calipers and 380x36mm (15.0 x 1.42 inches) vented and cross-drilled discs in front and 355x28mm (14.0 x 1.1 inches) discs and six-piston aluminum fixed calipers on the rear axle.
Regarding the looks the Germans fitted a new front fascia with integrated auxiliary headlamps and LED daytime running lights. The large central air inlet optimizes cooling of engine and front brakes. The front spoiler lip is made from clear-coated carbon fiber and attaches to the underside of the front fascia. They also offer custom-tailored aluminum front fenders that replace their production counterparts. They include an integrated air vent made from clear-coated carbon fiber and a horizontal brace that spans the vent with embossed Brabus signet and integrated LED lights. The latter are activated just like the ones in the side sills via the keyless remote or by pulling on a door handle.
The aerodynamic enhancements are rounded out by the rear spoiler lip, also available in a clear-coated carbon-fiber version, and the new rear fascia with centrally located reflector and custom cutouts for the quad sport exhaust system. The underside of the rear fascia also features integrated LED lights which illuminate the ground behind the vehicle.
On the inside you can get fully leather interiors in any color imaginable, Alcantara supplements and exclusive wood trim sets which can be ordered in any desired color. A particular Brabus specialty is the creation of the multimedia equipment including the iBusiness concept. Brabus have integrated Apple components into the vehicle electronics of this Mercedes S-Class.