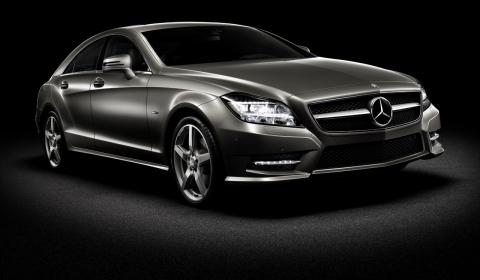 Celebrating its world premiere at the Paris motor show, the 2012 CLS-Class is an evolution of its predecessor with a fresh new interpretation. The package includes several changes in the design of the interior, exterior and technical setup of the four-door saloon car.
The new CLS will be offered with a variety of new powertrains including the freshly released 3.5 liter V6 producing 306hp and 4.7 liter bi-turbocharged V8 with 429hp. An AMG version powered by a new 5.5 liter twin-turbo V8 will follow later.
The exterior has a new headlight design using a full-LED setup, with a total of 71 bulbs making up the main headlamps, running lamps, turn signals and side lamps.
On the inside, the Germans changed the new three-spoke sport steering wheel and have used the column-mounted gear selector similar to that in the higher-end CL and S-Class cars.
The new CLS will arrive in US dealerships in mid-2011. Europe will have the car in January. Main competitors are the all-new Audi A7 Sportback, Maserati Quattroporte, Porsche Panamera and the production version of BMW's Gran Coupe concept.