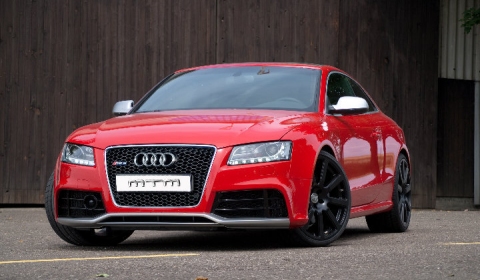 MTM is the first to release a tuning package for the new RS5. The program for the new RS family member includes rims/wheels, spacers, exhaust system, suspension kit and engine modification improving the top speed up to 303km/h (188mph).
The high-revving V8 engine producing 450hp (331kW) did not receive a full performance upgrade. The modified MTM motronic computer makes sure the speed limiter is removed. V-max increased from 250km/h up to 303km/h. The MTM exhaust system for the 4,2 FSI Quattro Audi RS5 has throttle valves in two pipes and can be outfitted with the original tailpipes.
A wide variety of MTM Bimoto rims are available sizing from 19 up to 21 inch. The sets can be outfitted with Michelin wheels and are available in two colors.
The new F-Cantronic air suspension system will be available soon. Up to this moment it is unknown what the system will change to the ride height.