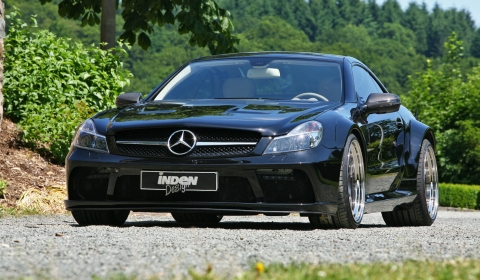 Inden-Design has released the Black Saphire kit for the SL 63 AMG. The full kit includes a new body kit, interior and technical changes.
The body kit holds a front spoiler bumper, fenders with ventilation openings, a complete hood with air intakes, sidesmolder-learn, a tailspoiler as well as rear widenings. The body kit has a value of € 19.900 for additional € 3,500 you can get a hood, for € 800 the tail diffuser in carbon and for € 999 a front flap of PE in addition. The assembly of the body parts and the various adjustment work is separately calculated with € 8,000 and the lacquer finish inclusive putty work with € 7,500.
A further important contribution to the new optics and performance makes the multipart Black Saphire light alloy wheels in 20 inch for € 13,200 inclusive sport tires. These were installed in size 11×20 inch and 13×20 inch with 275/30 R20 and 325/25 R20 high speed tire from Dunlop.
A modified controlling – € 1,550 inclusive installation – of the ABC chassis makes a sinking for the body possible. Starting from 70km/h the chassis will be raised around 20mm.
The full package is completed with a back driving camera (€ 900), day driving lights (€ 420) and suitable Black Saphire high-grade steel exhaust embellishers (€ 1,200). When desired an increase in output on 560hp and 670Nm can be accomplished as well.
Inside the vehicle you can get individual leather equipment, exclusive accessories for the cockpit and when desired also a Multimedia system.