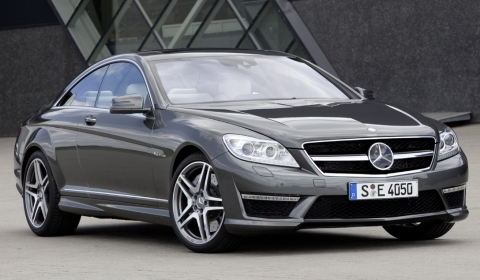 Mercedes-Benz has finally released details and images of the 2011 Mercedes-Benz CL63 AMG and 2011 Mercedes-Benz CL65 AMG.
The CL 63 AMG is powerd by the new AMG 5.5 liter biturbo V8 engine producing a peak output of 536hp and maximum torque of 800Nm (590lb-ft). In conjunction with the AMG Performance Package these figures increase to 563hp and 900Nm (664lb-ft). The engine is outfitted with systems such as direct gasoline injection, twin turbochargers, air/water intercooling and the Controlled Efficiency stop/start function.
The CL 63 AMG accelerates from zero to 100km/h (62mph) in 4.4 seconds, and has a top speed of 250km/h (155mph) (electronically limited). With the AMG Performance package, the high performance Coupé reaches the 100km/h (62mph) mark in 4.3 seconds and reaches a top speed of 300km/h (186mph) (also electronically limited).
The bigger brother – the CL 65 AMG – keeps the 6.0 liter twin-turbo V12. Mercedes has managed to add an additional 17 horsepower from it. Output for the CL 65 is now rated at 621hp, but it keeps the same 1000Nm (738lb-ft) torque rating. Power is still routed to the back wheels via a five-speed automatic transmission.
Exterior changes are minimal. The new face includes the standard LED running-light strip and some small tweaks to the rear fascia.
Official pricing and availability have not been released yet.