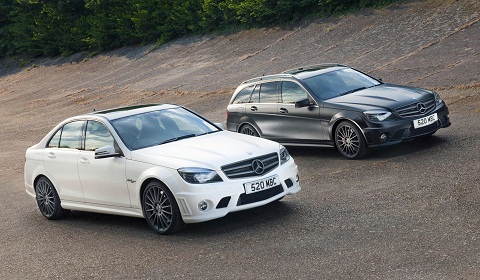 Goodwood kicks off in full tomorrow morning. Mercedes-Benz has recently announced the cars that they plan to take to the event and we have to say it sounds promising! The German brand will feature cars in the Supercar Paddocks, the Moving Motorshow, the FOS-TECH Pavillion, on the Mercedes-Benz expo stand alongside other key cars featuring on the hill!
One of the most important cars will be the SLS. Mercedes will bring the standard SLS as well as the Official F1 Safety Car. It will be the SLS' English debut.
Next up is the CL-Class. Mercedes will preview the facelift on Friday night Mercedes-Benz World before bringing the car to the Festival of Speed on Saturday and Sunday. The second premier will come in the form of a "Brooklands Special" C-Class DR 520; a car made by the Specialist Products Division at Mercedes-Benz World. The DR 520 features an extra 60hp and 50Nm of torque over the standard car.
On the Formula-One side of things, Sir Stirling Moss and Mercedes-GP driver Nico Rosberg will both be making appearances. The Mercedes-GP team will also be in the paddocks running a car, although it is not yet confirmed which one it will be.
Displayed in the FOS-TECH Pavilion is the B-Class F-Cell. The Mercedes-Benz G-Class will make an appearance at the Mercedes-Benz stand to promote the model's return to the UK market in August. They will only be made available through the Specialist Product Division at Mercedes-Benz World. Next to this, the facelifted Maybach 62 will make its European debut.
Expect to also see plenty of privateer Mercedes-Benz cars when wandering the Paddocks too!