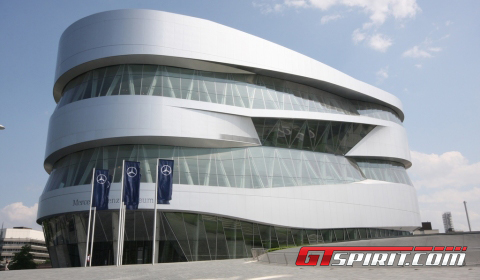 Visiting Stuttgart in Germany means experiencing Porsche and Mercedes-Benz. After visiting the Porsche museum last year the Mercedes-Benz museum was next. A total of 160 automotive exhibits and numerous samples give an overview of the automobile history. A chronological tour through the rooms will take you from the dawn of automotive history in 1886 through to the present day. First ever Mercedes car is present up to the latest SLS AMG. Even on the subject of motorsports the heritage is shown.
The museum also houses exhibits set out in five thematic collection rooms including one covering every single supercar that Mercedes-Benz has produced.
Via an Audio Guide you can call up additional information about the exhibits. You can choose between four profiles: Fundamentals, Contemporary Events, Engineering and a profile for children which is available in German and English.
Inside the building you will find more than just the museum and a shop. There is also a massive showroom with a classic collection, motorsport and passenger-car collections.
The museum is open from Tuesday to Sunday, 10.45 a.m. (tour in English) and 2.30 p.m. (tour in German). Tickets can also be booked via Online-Ticketing and the Mercedes-Benz Classic Customer Center.
If interested, guided tours of the Motorenwerk Untertürkheim facility – main factory next to the museum – can be arranged for museum visitors. This is a production site for major assemblies, where engines, transmissions and axles are manufactured. It is not possible to see cars being assembled in the parent plan.