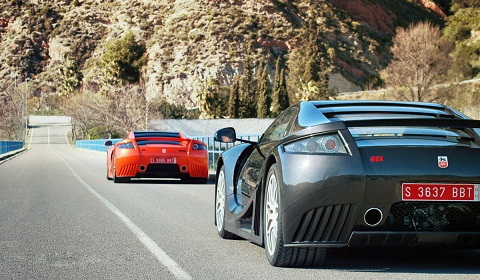 The Spanish-built GTA Spano will retail in Europe for € 600,000 (£ 496,000). The pricing puts it head to head with some serious competition including offerings from more established companies such as Koenigsegg and Pagani. So what will you get for that amount?
To start with, you will get exclusivity. A limited amount of 99 coupés will be produce with a further run of roadsters and a racer to be announced at a further date. A little over half of the cars have already been designated so spots are still open.
Underneath, the Spano features an 8.3 liter V10 mid mounted, supercharged engine with 780bhp and 679lb-ft of torque. Power is delivered to the rear wheels through a seven-speed sequential-manual gearbox. An interesting fact is that the company will convert the engine to run on Bio-ethanol which releases an extra 60bhp, 840bhp total.
Weight is just 1,350kg (2,976lbs) which means the car should be capable of a 0-100km/h (62mph) sprint in less than three seconds and will go on to a top speed in excess of 350km/h (217mph).