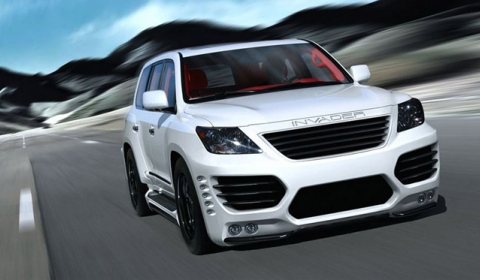 Lexus tuning is not one of things happening pretty often. So creating a more aggressive and sleeker appearance on a Lexus LX 570 SUV is quite unique. The Japanse styling company ASI has tweaked the looks and the engine performance of the vehicle and dubbed it ASI LX 570 Invader.
The exterior trim got a redesigned front grille and a new bumper with large air intakes. The package also has quadruple fog lights, two carbon-finish elements, LED daytime running lights and two-tone finish side skirts. There is even a new set of bespoke rims.
Under the hood the 5.7 liter V8 engine was tuned up to a massive 600hp, an increase of 217hp. Thanks to that, the refined sports luxury ride will be able to cover the zero to 100km/h acceleration sprint in less than 5 seconds. That is what we call some decent tuning.