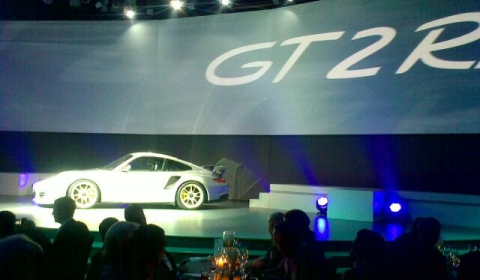 The Porsche 911 GT2 is the last member of the 997 family to receive an update. Like any GT2 the final update comes just before sports car reaches the end of its product cycle.
Teamspeed member GT3ZZZZ was invited to a special launch event from Porsche this weekend. During the event the Germans displayed the brand new updated Porsche 997.2 GT2 RS.
The German sports car maker introduced the vehicle – limited to only 300 units – in Leipzig. The characteristics of the vehicle are a lower weight of 90kg with respect to the 997.1 GT2 and a total horsepower of 620. Sprint time from 0 to 100km/h (62mph) is performed in 3.2 seconds, 0-200 will be below 10 seconds and 0-300 well below 25 seconds. The car laps the Nürburgring in a rumored top time of 7 minutes and 22 seconds.
The interior trim has many design influences which are related to the new Porsche 997.2 RS setup.
More details and the official release are expected to be held on the 14th of May.