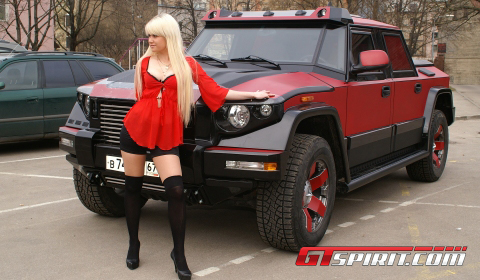 Introduced at Top Marques Monaco the Dartz Prombron Red Diamond Edition is one of the most special vehicles on the roads in Europe and Arabia.
The unique luxury armoured truck is equipped with gold plated, bulletproof windows and bulletproof 22 inch alloys. A tungsten exhaust and tungsten badging and gauges, complemented by white gold gauges encrusted with precious gem stones also add to the list. Extra kevlar coating, just in case you happen to be driving through a war zone, and a Rogue Acoustic Audio System to ensure you can't hear the carnage are all included.
Just before it was unveiled Dartz made a photoshoot – Russian style – with the vehicle and a lovely Russian lady. The result? Check out these two teasers. In the gallery below you will find more…
If you are interested in hi-res versions of the pictures, please contact us or leave a comment below.