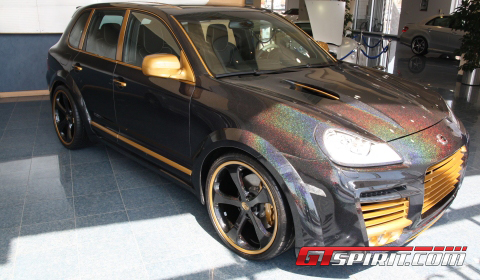 Ones in a while you come across special vehicles with an unique colour setup or design-changing body kit. Prestige Cars showed us something really special placed inside their Abu Dhabi showroom. The TechArt Magnum is known to us all, but this Golden Magic Edition is trully one-of-a-kind.
The basic setup is the 680 horsepower Magnum package with a maximum torque of 900Nm at 4,200rpm. Sprint from 0 to 100 in 4.2 seconds and from 0 to 200 in 14.5 seconds. Top speed? A maximum of 308km/h. These are just the standard figures.
The exterior design got a special treatment. The standard front apron has been added, which features new chrome detailing, a LED lighting system and different air intakes suppling the radiator and front brakes with cooling air. The fenders and sill panels were changed too. Same can be said about the rear apron with an integrated diffuser, two double-flow exhaust pipes and LED day driving light system. The system consists of a combination of day driving lighting, side lighting, parking lighting and indicator lights.
The livery and the interior are the main points of focus here. The unique Golden Magic colour is available for each and every car. The colour changes intensity when the sun beams hit the car. Even the rims match the body work paint. Other details are golden rear view mirror cabs and parts within the body work highlighted in gold.
On the inside you have a brand new interior handmade by TechArt. The golden details are added to the interior trim.
The gallery below gives a complete overview of the unique vehicle. Interested? Contact us via the contact link in the main menu or Prestige Cars for more information.