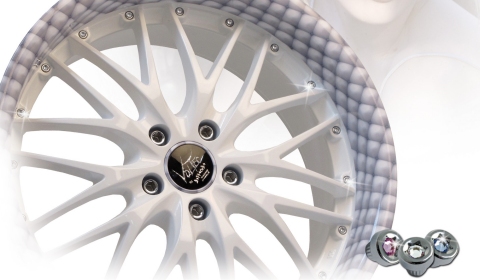 Men listen up! We all know that the female part of the human kind has a passion for a nice pair of shoes. However, we missed out on a secret. There are trendy girls that would love to apply their shoe fettish to the 'shoes' of her personal car. For those ladies there is an answer; Barracuda rim line-up Girlz style.
According to the manufacturer, they will make women's hearts beat faster. A total of three designs are available for the insertion with the Voltec T6 as well as the velvet alloy wheel rim. The colours are Sweet rose, Cool blue or Snake grey. The rim consist of an extravagant drop-centre together with a corresponding hub cover as well as colour-coordinated Swarovski stones in the rim bolts.
The Swarovski crystals are also fitted to the matt black Karizzma wheel. They are available in the colour tones Crystal, Light Sapphire and Light Rose. Other colour variations are available on request.
Any thoughts, boys and girls?