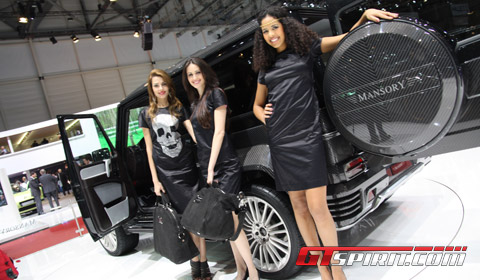 Mansory have presented their latest take on the Mercedes G-Class at the Geneva Auto Salon. Limited to seven cars, the G-Couture features heavy performance upgrades as well as dynamic exterior and interior modifications made in cooperation with fashion brand Philippe Plein. In true Mansory form, the exterior is covered in lightweight, compressed 'naked' carbon fiber giving the car a completely unique finish.
It is based on the Mercedes-Benz G 55 AMG and therefore features the same 5.5-liter supercharged V8 as the standard car. However, in the Mansory car, many of the engine parts have been switched for their more powerful counterparts from the SLR. This allows Mansory to offer the car with 700bhp and 880Nm of torque.
The stunning work on the exterior uses autoclave-prepreg-carbon, a method usually reserved for the high-tolerance aviation industry. We are assured by Mansory that the process to develop the panels is both labour and cost intensive.
Also featured on this car are a new set of 23 inch Mansory rims. One-part, they're designed specifically for SUV's and the G-Couture in particular. Pirelli Scorpion tyres wrap round all four rims in size 305/35 R 23.
Inside there's the usual Mansory overhaul. Four single seats replace the bench seat normally found at the back of a G-Class. There is a continuous central console which now reaches from the front seats to the rear leaving an area for Mansory to install a DVD entertainment system. A sports steering wheel, aluminium pedals and a quality upholstery mark the rest of the changes.