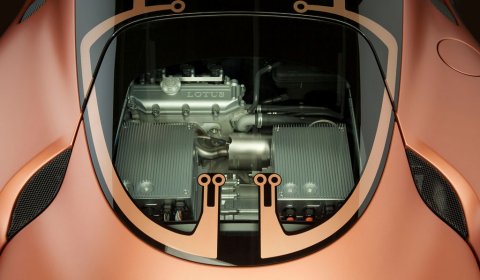 The 80th Geneva Motor Show will show us the Lotus Evora 414E Hybrid concept developed by Lotus engineering. The British manufacturer unveiled a teaser today.
The sports car uses a plug-in series hybrid drive system with two electric motors driving each of the rear wheels independently via single speed geartrain, integrated into a common transmission housing. It enables torque vectoring for stability control of the vehicle. Electrical power is stored in a lithium polymer battery pack mounted in the centre of the vehicle for stability and safety. Additional range is provided by the Lotus Range Extender engine, an optimised 1.2 litre three-cylinder engine.
The Lotus Hybrid develops 414PS (306kW) and can accelerate from 0 to 100km/h (60mph) in just 4.0 seconds and has a range of 300 miles/483 kilometers.
The seven-speed transmission with paddle shifters uses two driving modes – Eco and Sport. The Evora 414E Hybrid comes with a HALOsonic Internal and External Electronic Sound Synthesis and Torque vectoring.
More information on this vehicle beginning of next week!