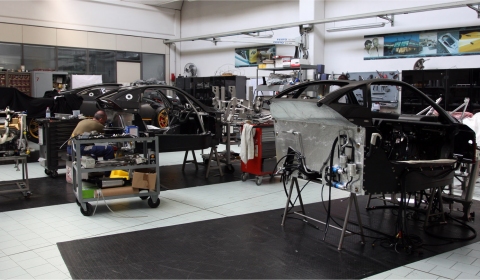 Successors to the current line-up of Zonda's have been discussed before, but not to the extent as mentioned below. During an interview with ArgentinaAutoblog Horacio Pagani shed some light on the release of the 'C9' at the end of this year.
The supercar is build-up from scratch and contains 3770 new components. The chassis is made of carbon-titanium, there's a new undercarriage and one-of-a-kind Pirelli tires. The vehicle will use an AMG Mercedes 6.0 liter V12 bi-turbo engine producing up to 700bhp and 1000nm of torque.
The Pagani C9 conforms to all emissions laws, including those in the States. Its design is completely different compared to the current Zonda, despite being from the same family. The looks of the car are inspired by modern airplanes.
The new C9 is expected to be produced in far greater numbers than its predecessor. Fourty cars will be produced and sold annually worldwide for a price of around €900.000 without taxes.
To make sure that the production of the vehicle stays in-house, Pagani is preparing to open a brand new factory. The new facility in Modena, Italy will be three times larger than the existing factory and will start its operation after the new C9 is introduced at the Paris Motor Show 2010.