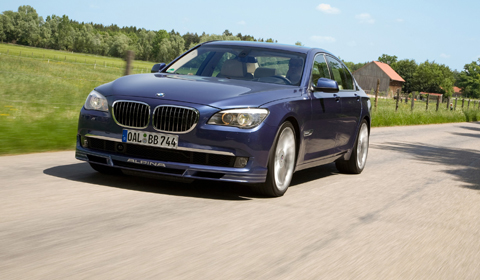 After a period away from the US market, BMW are re-introducing the Alpina name in the shape of the B7, based on the 750i. The luxury barge will be available for customers to order after an official debut at the Chicago Auto Show in February with the prices still to be confirmed.
BMW offered the Alpina B7, based on the E65 7-Series, in 2007 and 2008 model years as a limited edition. This time it returns as a full option for both standard (F01) and long wheel-base versions.
Although we have already introduced you to the B7, we thought that you might find it useful if we recapped a few specs. Alpina added 100bhp to the 4.4 litre V8 to create a bridge model between the 500bhp 750i and the 544bhp 760Li. The total now rests at a satisfying 500bhp with 700Nm of torque, both help to achieve a 0-60mph (100km/h) time of 4.5 sec.