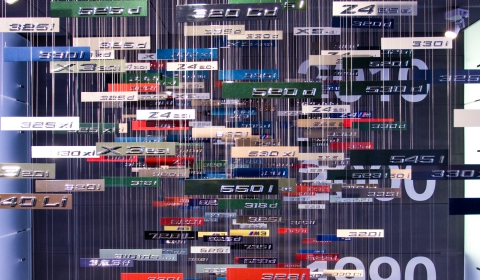 Stuttgart is known for its heritage regarding Mercedes-Benz and Porsche, the same story goes for Audi and Ingolstadt. Munich however is home to the Bayerische Motoren Werke AG or in English Bavarian Motor Works (BMW). The German automobile, motorcycle and engine manufacturing company was founded in 1916. It owns and produces the MINI brand, and is the parent company of Rolls-Royce Motor Cars.
To fully experience the brand as a whole, the car maker opened a multi-functional customer experience and exhibition facility called BMW Welt and renovated the BMW Museum during the second halve of this decennium. Welt was opened on October 17, 2007, a year later the 'new' Museum repened its doors.
BMW Welt offers enough space to show the current line-up of BMW models and is used as an event forum and a conference center. It also acts as a distribution center for BMW cars. You – as a customer – can collect your brand new vehicle at BMW Welt. In the center of the building there is a unique place where your car awaits the arrival of its new owner. Finally, there is a restaurant and a shop with BMW products.
The museum shows the technical development of the company throughout its history. More than 90 years of BMW heritage in seven thematic blocks; House of Design, House of the Company, House of the Motorcycle, House of Technology, House of Motor Sport, House of the Brand and House of the Series. Examples are a line-up of 7 Series and M Series models.
Next to these 'houses' it gives you a time line of all roadsters that BMW has produced over the years, including the BMW 315/1, 328, 507, Z1, Z3 and Z8.
The circular building – the "Bowl" – shows a temporary exhibition. The current exhibition is dedicated to concept cars of the BMW brand. Models like the 531 from the 1950s, the BMW Turbo from 1972 and the BMW Z22 with its 70 innovations. The BMW X Coupé, the BMW CS1 and BMW Concept Coupé Mille Miglia 2006 showing the design story.
The museum isn't the biggest we have seen so far, however it gives a great inside into the history of the brand. Anybody interested in the full story should ask for a guided tour, it takes up to 1.5 hours and gives you all the information you need to hear.
The BMW museum is opened on Tuesday to Friday from 09.00 to 18.00h. Saturday, Sunday and public holidays it is opened from 10.00 to 20.00h. BMW Welt is open from 09.00 to 18.00h daily.