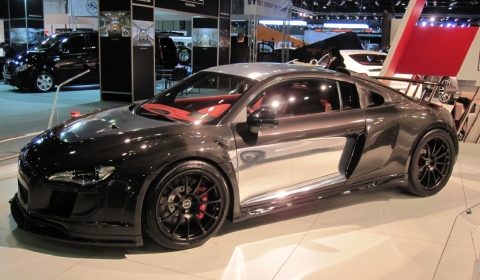 PPI Design has unveiled two new packages for the Audi R8 (V8 & V10) at the Dubai Motor Show last week. During the development PPI used the existing Razor GTR kit, unveiled at Top Marques Monaco 2009. The body shell of the supercar got a proper treatment of exposed carbon fiber. The doors, bonnet and roof are clean chrome; only in case of the third Razor GTR stage. The fourth stage of the program consists of a fully exposed carbon fiber body shell.
The exterior widebody kit contains a new front bumper, front spoiler, front bonnet, front fenders, sideskirts, sideblades, rear fenders, rear bumper, rear diffuser, rear spoiler and a new rear engine cover with air channels that can be fitted with a polycarbonate, scratch-resistant and UV coated glass in solid or slotted form. The total weight gained by installing the kit is 250kg (551lbs).
The standard Audi R8 V8 power upgrades are Stage 1 – 40hp increase and Stage 2 – Supercharger – 200hp increase. V10 power upgrades are Stage 1 – 60hp increase, Stage 2 – 80hp increase and for Stage 3 are further power increases available upon request.
Braking is performed by a 380mm braking system with six-piston calipers in the front and four-piston calipers at the back. The R8 can be fitted with 10×19 and 11×20 forged aluminum wheels, with 265/35 19, and 335/30 20 Michelin Pilot Sport 2. Alternatively, carbon fiber wheels are optional in the following dimensions: 10×19 inch and 12×20 inch.
Pricing for the complete carbon fiber Razor GTR kit is another 35,000 euros on top of the regular kit, which means prices within the program range now from €35,000 up to €80,000.
The RAZOR GT/GTR packages are offered in 4 levels. The first stage is the Razor GT kit costing €35,000. This is the existing Razor GTR widebody kit (stage 2) priced at €45,000, but without the rear engine lid/air channels and rear spoiler. The third stage is the Razor GTR Optical kit – the one pictured here – including glossy carbon fiber and clear-coat. For €50,000 it's yours. The final stage is the Razor GTR Exposed Carbon Fiber covering the complete Audi R8 with a glossy carbon fiber look, including the doors, the bonnet and the roof. All prices are without painting and mounting!