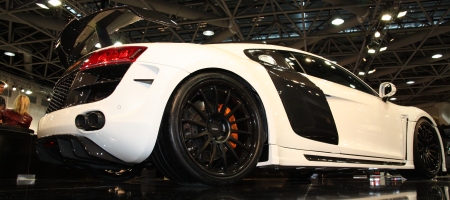 After our preview at the beginning of this week the production version of the PPI Razor GTR has been unveiled at Top Marques in Monaco. The special limited production supercar developed by German tuner PPI follows up the introduction at the last year's Essen Motor Show.
The Audi specialist turned its focus on optimising the power-to-weight ratio of the Audi R8 while strengthening the engine, increasing performance, improving handling dynamics, and managing to reduce the weight. The most important enhancement is the added supercharger, a ram-charged sport air filter system and a high performance exhaust system.
The engine produces 650hp / 427kW at 7,400rpm, a maximum torque of 600Nm at 6,200 rpm. The complete GTR weighs about 1580kg, 250kg less than normal. Top speed is 332km/h and 0 to 100km/h is reached in only 3.7 seconds.
Pricing starts at 336,955 euro for the 6-speed version and 343,200 euro for R-tronic version.
Just enjoy our pictures of the best looking R8 we ever saw.