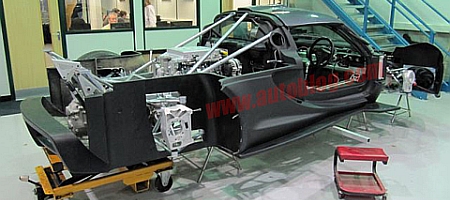 A little while back we reported that Hennessey Performance plan to build a Veyron beater in the shape of the Lotus Exige look-a-like Venom GT. After waiting a few months, we've just received the first spyshots of what we're told is the Venom GT.
Car's that claim to beat the Bugatti Veyron have become fairly common-place nowerdays. We've got the SSC Ultimate Aero, the Keating TKR and the Zenvo ST1 all claiming over 1000bhp. This is the class of cars that the Venom GT aims to join, as we can see from these photos, it's already half way there!
Based on the Lotus Exige S chassis, the Hennessey Venom GT features an LS9 packing 670-700bhp to start with, then dual turbos should push that up to around 1000bhp. Weight is to be kept down to around 2,400lbs (1088kgs) which should mean the car becomes capable of 0-62mph (100kph) in 2.5 seconds and a further top speed of 262mph (421kph).
All that power will be dealt with through a Ricardo six-speed manual gearbox, proven on Hennessey's other 1000bhp projects. Carbon fiber Dymag wheels and fifteen inch carbon ceramic discs will also feature.
Hennessey hope to have the car finished in time for the Geneva motorshow next year. Being our favourite motorshow, we'll definately be there to take a look at it.
[Via Autoblog.com]