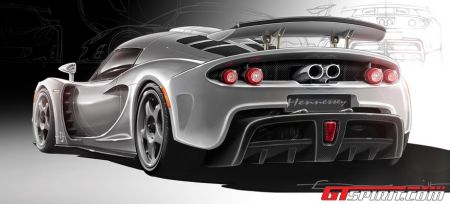 He had Corvette's, GT-R's, Cadillac's and Vipers in his shop. We can say that John Hennessey is probably one of the most respected tuners of the USA. Since the first rumours about two years ago he now confirmed his own supercar, called the Venom GT, being presented at the 2010 Geneva Motorshow.
The original Venom GT has been changed on quite a few places. The total weight has gone down from 1225 kg to 1090 kg, the twin-turbo V10 has been replaced by a Hennessey V8 and the output is rated to be 1,200bhp instead of the 1,000 horses. Sprint time from zero to 62mph (100km/h) will be 2.4 seconds and the top speed is estimated at 272mph (435kmh).
Welcome the new member in the club of 400 km/h.
Price of this beast will be at least $600,000, we can't wait to see it in Geneva next year!
[Via Autoblog.com]