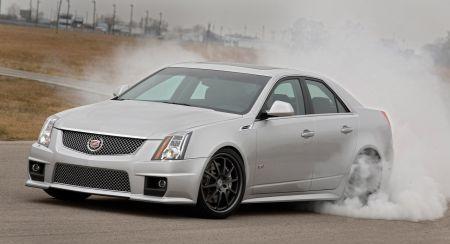 Hennessey is probably the best known American car tuner. Last month they created a package for the Nissan GT-R. This Cadillac CTS-V is their latest member to the family. The Cadillac has 564bhp standard and is one of the strongest four-door saloons out on our roads. As you can expect, clearly not enough for Hennessey and they decided to create not one but four special packages upgrading this beast. Scroll down to find more details and a video with the car in action.
The CTS-V600:
By the use of a K&N airfilter, a reviewed motormanagement and some changes to the supercharger you will get an output of 610bhp. That will let you sprint to 62 mph (100kmh) in just 3.7 seconds. End of the sprint will be at a topspeed of 196mph (314kmh).
The CTS-V650:
As the name suggest you will get 650bhp. This is created by the use of a cold air induction, high-flow katalysators and RVS headers. The sprint to 62mph (100kmh) will be done in 3.5 seconds.
The CTS-V700:
This one reaches the 700bhp barrier. That together with 950Nm of torque it will be possible to sprint from standstill to 62mph (100kmh) in just 3.1 seconds! Topspeed is reached at 212mph (340kmh).
Top of the range, CTS-V800:
The engineers used a twinturbo, wastegates, blow-off valves, Corsa RVS catback exhaust and new injectors. Sprint and topspeed figures are not known yet, but we believe it can be put next to the Bugatti Veyron for a little sprint!
[via Autoblog.nl]