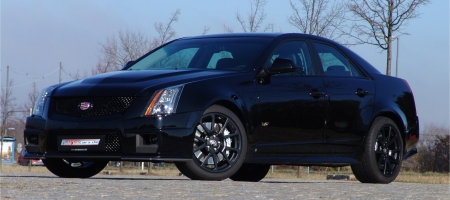 GeigerCars.de is offering special performance tuning for the Cadillac CTS-V. The 564hp performance saloon with a maximum torque of 747Nm is equipped with engine upgrades, new brake kit and improved gear changes.
The four-door Cadillac with the tapered bonnet is powered by a classic eight-cylinder engine with a capacity of 6.2 litres. The large intercooler and the compressor are hidden under the power dome hood. Thanks to an increase in air charge pressure, the engineers at GeigerCars.de have now conjured 619hp from the CTS-V at 5900rpm, which means a top speed of over 330km/h thanks to a shortened fifth and sixth gear. The maximum torque is increased to a 850Nm.
The full package with changes contains:
Engine: 6.2 litres V8 with compressor, increased charge pressure
Power: 619hp at 5900rpm
Maximum torque: 850Nm at 4000rpm
Bore x stroke: 103.2 x 92.0mm
Drive: rear-wheel drive
Gears: 6-gear transmission; 5th and 6th gear shortened
Brakes: ventilated disc brakes at front and rear
Top speed: 330km/h
The full package comes at a price of 84,900.00 euros. This is including the vehicle.