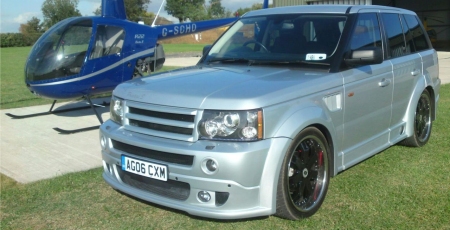 The Prestige design team has taken the Range Rover Sport to the next level by including an "impressive" styling conversion. Uh, that is what Prestige stated in their press release. We call this kind of refinements overkill.
If you are interested, the kit includes a new front bumper featuring an additional air intake, additional fog lights and a greater "visual impact". Uh yes, that's true. The remodelled front wheel arches give the car some extra width. The front door panels extend the doors. It continues in the rear door panel and arches. The rear door panel section has an additional air vent and the rear quarter panel arches complement the side profile connecting the front bumper and rear bumper.
The rear bumper retains a removable towing mount cover and has been lowered to incorporate the exhaust outlets. Additional extras are available such as a LED headlight conversion, side wing vents, radiator grills, bonnet vents, upper and lower rear tailgate spoilers and engine bay detailing. Within the Prestige S interior you will spot full leather re-trim options, kick sills and custom detailing. Wheels, tyres and exhaust packages are also available.
Any comments on this package?