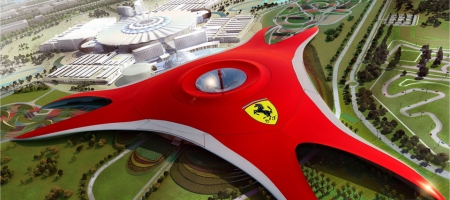 Abu Dhabi is trying to increase its brand value by showing off. Next to the construction of a F1 spec race track a second subject is being developed right now; a Ferrari-based theme park set to open in 2010.
Name? "Ferrari World Abu Dhabi"; a petrolhead's "Disney Land" and the world's first Ferrari theme park and largest attraction of its kind. The theme park will feature a sleek red roof that's said to be directly inspired by the classic double curve side profile of the Ferrari GT body, spanning 2,152,782 square feet and carrying the largest Ferrari logo ever created. The logo measures 65m x 48.5m.
A theme park needs attractions. There will be a number of them, including rides for children of all ages and the world's fastest rollercoaster, travelling at speeds exceeding 124mph. Other attractions will be G-force experience taking passengers on an adrenaline-pumping ride up over 62 meter through the roof and back down again, racing simulators using a similar system as those used by the Ferrari racing team, flume ride journey through the heart of a Ferrari 599 engine, driving and racing school for junior drivers, with expert training and an aerial voyage over Italy following a Ferrari.
Ferrari indicates that the site is located on Yas Island on the North East side of Abu Dhabi's mainland, which is about a 10-minute drive from Abu Dhabi International Airport and 50 minutes from Yas Marina Circuit, which will host the Abu Dhabi F1 GP this weekend.
Anybody willing to join us for a ride?