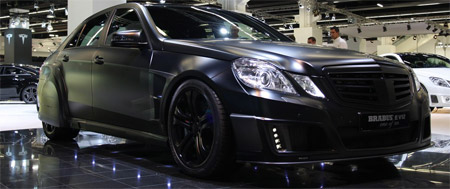 Brabus presented us their new Mercedes E-class based Brabus E V12 'black baron'. The 6.3 liter V12 produces an insane 800hp and 1420Nm of torque!
The design of the new Brabus E V12 is eye catching to say the least. Apart from the use of a lot of carbon including a carbon rear spoiler the most remarkable part of the car are the rear wheel covers that offer increased stability at high speeds.
The 800hp V12 rockets the four door saloon from zero to 100 in less than 4 seconds and with the limiter removed it has been tested to 370km/h. But the company has high hopes it will top out above the 370km/h marker on Nardo, Italia's famous high speed track.
The Brabus E V12 Black Baron is build in a limited series of ten cars, at the moment three have been sold already. For more information about the E V12 please read our official EV12 release article.