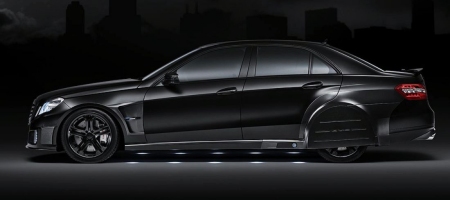 A limited edition E V12 sedan is the latest addition to the line-up of German tuner Brabus. The sedan is based on the new 2010 Mercedes E-Class W 212 and features a 6.0-liter V12 biturbo bored out to 6.3-liters producing 800hp and 1420Nm of torque. Brabus outfitted the engine with a ram-air system, a quad-exhaust, and revised engine electronics.
The E V12 rockets from 0-100km/h (62mph) in 3.7 seconds, 0-200km/h (124mph) in 9.9 seconds and 0-300km/h (186mph) in 23.9 seconds. The top speed is electronically limited at 350km/h (217mph). Without the limiter you can hit a top speed in excess of 370km/h (230mph).
Other extras are a fully adjustable sports suspension, new stabilizers, a high performance braking system and black 19-inch alloy wheels outfitted with 255/35 (front) and 285/35 (rear) tires.
Modifications to improve aerodynamics, engine ventilation, and brake cooling include a revised front bumper, new front quarter panels, aggressive side sills and uh… rear wheel covers! A rear spoiler and a carbon fiber rear diffuser complete the package.
Interior changes include black leather, an Alcantara headliner, carbon fiber trim, and a 400km/h (249mph) speedometer.
Only ten units will ever be made at a price tage of about €600,000 ($875,000 USD).
[Via WorldCarFans]