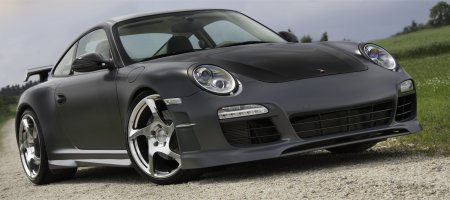 Mansory Switzerland AG, in-house expert for Porsche cars, have presented a tuning programme for the model 911 from the revived Porsche Type 997 series today. This tuning programme mainly focuses on improvements concerning aerodynamics, engine performance and handling of the sports car.
All added body components are made of PU-RIM. The core part of the body kit is a lift-reducing front mount in a sportive-dynamic look. In connection with the hood, the front apron offers various design possibilities. You can get the specially designed inlay or the apron combined with the Mansory carbon hood. The rear apron accommodates the new four-pipe exhaust system. The pack is completed with side skirts which also fulfil functional tasks.
The power engines got some changes too. Mansory replaced existing parts by modified proprietary developments. A new sport air filter and a new exhaust system – with integrated throttle system operated by remote control – are part of the improvements. These enhancements will accelerate the 911 from 0 to 100km/h faster than the serial versions.
A forged wheel with an exclusive design is added to the package. The one-piece wheel with five double spokes measures 8.5 x 20 inches at the front and 12 x 20 inches the back. Michelin Pilot Sport wheels sized 245/30 at the front and 325/25 at the rear put the power to the road.
Finally there are some design changes inside the interior. Materials like leather, e.g. for the seats, the dashboard and the newly designed sport steering-wheel, are part of the deal. As a Mansory customer you can also equip the interior with anti-skip aluminium pedals and real carbon components.