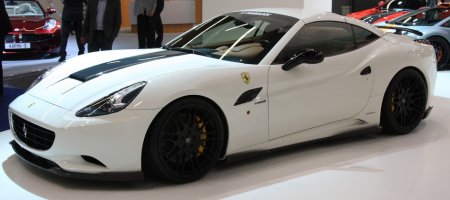 The Hamann interpretation of the Ferrari California is one of the highlights at the stand of the German tuner. The full package with refinements contains a bodykit, motor management upgrade, new wheels and interior enhancements.
Apart from design elements such as a bonnet made of carbon fibre, specific modifications at the front, sides and back boost the aerodynamics. The front spoiler reduces the lifting forces of the California. back spoiler increases the contact pressure. Hamann added a small wing profile enhancing the car body design. The three-part rear diffuser renders enough grip for the road.
Hamann ensured us an adjustment for the motor management is in preparation and a sport exhaust system will also be especially engineered for this sports car. This combination will advance the performance of the serial 4.3 litre V8 engine with 460hp by up 20 percent.
The multi-part Hamann aluminium wheel called Edition Race is the third part of the package. The black varnished rim star and the titanium bolting of the high-gloss polished rim flange give it a racing character. The recommended wheel-tyre combination measures 9.0Jx21 inches with 245/30ZR21 tyres for the front and 12.5Jx21 rims with wheels measuring 345/25ZR21 are fitted at the back.
In addition to the serially offered interior, Hamann offers an extensive programme, ranging from personalised floor mats to a perfectly finished complete leather interior. Choose whatever you want and they will sort it for you.