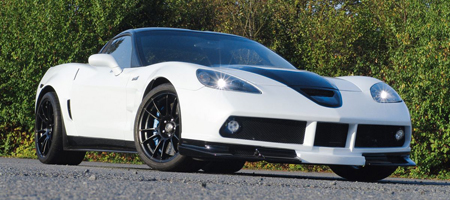 Most European still consider the US to be stuck in the stone age when it comes to performance cars. We have this preconceived notion that all American cars have huge engines that fail to deliver a proportionate level of power and dated interiors. A couple of supercars have recently come along though that have changed this view. One of these is Corvette's ZR1 which can be seen here after it's been imported into Germany and fine-tuned by Geiger Cars.
As one of the most prominent US car importers in Europe, Geiger Cars has enough prestige to mess around with their cars every now and again and offer something that the customer feels is unique. Their latest package for the ZR1 is just that.
It features a whopping 710bhp at 6,600rpm alongside 918Nm of torque at just 4,200rpm. 0-100kph (62mph) is dealt with in just 3.6 seconds and the GTS charges up to a top speed of 342kph (212mph). New wheels keep the car anchored to the ground, they measure 10 x 19 and 12 x 20 inch at the rear.
A new front and rear bumper hide new air vents and a rear diffuser to channel the air flow underneath the car. New fog lights, tail lights and mother of pearl paintjob later and the GTS is ready for the customer!