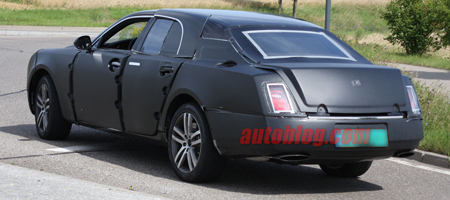 The trail of teaser shots Bentley have left us over the past months is steadily drawing us closer to the 16th August when the new 'Grand Bentley' will be unveiled for the first time. In the mean time, Bentley have to test the car and make sure it's ready for it's release date. These shots show the Bentley on a test run, underneath the chunky camouflage, we reckon there's a completely finished car.
What the pictures reveal to us are a few extra details on top of what we already know. It's been speculated before that the new Limo will feature two separate light clusters on the from, a theory that  these spy shots appear to uphold. Another similarity to the pictures we've seen before are the deep doors.
It appears that the rear shares some of it's design cues with the Continental Flying Spur. The oval lights and oval exhaust outlets appear to be lifted straight from it. We'll have to wait until the 16th August to see the final shape so we'll reserve our judgment until then!
[Via AutoBlog]