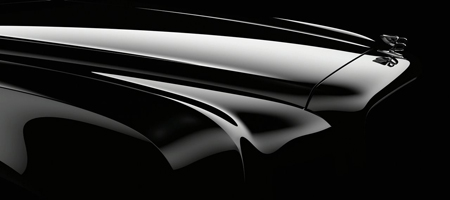 Whilst Engineers appear to be working on a hybrid drivetrain, Bentley engineers are also putting the finishing touches to the replacement for the Arnage. Today, a new website appeared alongside a teaser video and an image. The new 'grand Bentley' is coming.
The Arnage, whilst still selling well, has been in production for the past 11 years. It shared it's shape with the Rolls Royce Silver Seraph for 4 years of its life before the Seraph was replaced by the Phantom. It's age is evident although some argue that this is part of it's grandiose and statesman-like appeal.
As you'd expect at this point in time, the Arnage replacement's specifications are being kept closely guarded at the Crewe, UK based company. It's rumored to be longer than the outgoing model after a complete re-design. We suspect that it'll keep it's definitive looks and the teaser picture tends to agree with us.
The front is characterised by the classic Bentley upright grill and winged 'B' emblem. From what we can see of the headlights, the style looks much like that we've become familiar with from the likes of Rolls Royce, a smooth drop off from the bonnet. It all looks very grand and we can't wait to see it!
As for engines, expect anything! The most likely option is a continuation of the 6.75-litre V8 that's currently used in the Arnage, It's a unit that can be traced all the way back to 1950's Bentley's and is therefore the obvious choice. Other engines that have been rumored include the Audi V12 TDI and the W16 from the Bugatti Veyron project. Neither of these engines, in our opinion, are particularly in keeping with the refined and sporty Bentley image which is why were backing the 6.75-litre V8.
We're not sure when Bentley plan to fully unveil the new car, however we suspect it will be soon as the Arnage is due to finish production soon. Stay tuned for more news, as and when we get it!
The website can be found here.