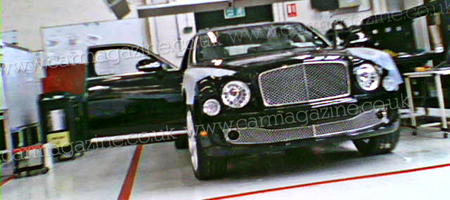 These new shots have emerged via popular UK car magazine Car. They show what appears to be the Grand Bentley in production readiness. It therefore seems right to say that the tease over almost before it has even began!
After seeing last months teaser images we already knew that the cars front would remain the same classic shape as the Arnage. These pictures confirm that for us, the classic Arnage grill is visually simailar to the out-going model. The front gains an odd cluster of lights with the larger main beam lights taking a more central position and leaving a space in the top left and right corners.
The rear looks to have gained the lights from the new Bentley Brooklands as well as the long coupe shape. The door handles are said to be hidden to give the car a more streamlined shape. Bentley are said to also be working hard on establishing a blend of contemporary and classic that works in the modern world.
The expected price is about £220,000 placing it more firmly against the Rolls Royce Phantom and the new Ghost.
[Via CarMagazine]