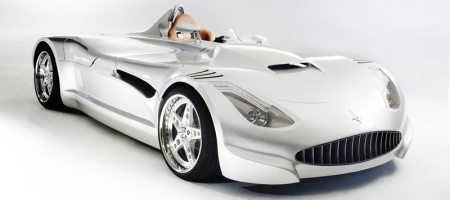 The company Vermot AG is responsible for a modern day recreation of a 1940s German racer. They called it the Veritas RS III. You can say a lot, but we think it looks rather stunning. There is even a choice between engines. You can get either a V10 BMW (same as the M5) or a V8 (same as the M3), offering either 600bhp or 480bhp. The world premier of the production car is at Salon Privé in July.
The Veritas RS III is missing any modern driver aids, so no ABS and no traction control. You just need to know how to drive a real car if you ever get in a Veritas. The single seater has no roof only a cover over the passenger side. The cover can be removed to take a passenger along, but you ought to make sure they have a sound constitution first. The interior contains wood plank flooring and hand-crafted alloy dials and detail.
Performance is a second subject. It reaches 0-60mph in a time of around 3.0 seconds and a top speed of over 200mph. The car isn't cheap with a price of around £250,000+. Quite bargain if you are interested in the only similar car in the market the Mercedes McLaren SLR Stirling Moss which is three times the price.
[Via CarsUK]