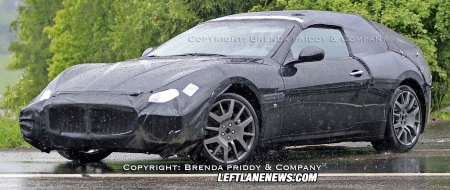 As we have indicated before the Italian manufacturer Maserati is working on a new topless sister for the GranTurismo. A mule was spotted at the German Nürburgring earlier on Monday highly camouflaged and not showing any of the new characteristics.
Earlier reports suggested the stylish supercar would be available with both soft and hard convertible tops. However, we reckon the Spider will have only a retractable metal roof rather than both, thus including a conventional canvas top. Competitors like the Aston Martin DBS, on the other hand, will not follow this trend and will soon come with a traditional soft top. A Porsche 911 Cabrio, too, will never be built with anything but a canvas roof.
The new model will apparently come as a 2+2 rather than a pure two-seater. Engine and mechanics of the Maserati Spider are not any different with respect to the coupe. There is a base model with a 405bhp 4.2L V8 engine and an up-level S model using a 433bhp 4.7L V8. The convertible will hopefully debut at the 2010 Geneva Motorshow.
[Via LeftLaneNews]