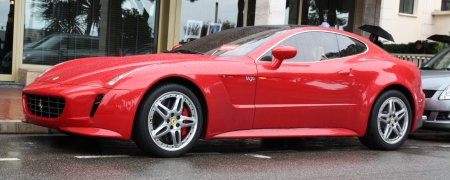 Derived from the Ferrari 612 Scaglietti the GG50 Concept was an idea that let to the creation of a Ferrari to mark 50 years in the world of car design. In 2005 Giorgetto Giugiaro used his initials, GG, followed by the digit 50 by way of epitomizing his debut into the world of car design in September 1955.
The idea took shape at the September 2004 Paris Motorshow, where Giorgetto Giugiaro and President and CEO of Ferrari Luca di Montezemolo decided on building a concept marking 50 years in the business.
When the car was made it was important that it was identified with a V12. Producing 540hp it ensures the sporty performance a gran turismo needs. Furthermore it has a compact appearance due to its rounded nose and tail angles. The front changed just a little, pruning the front overhang by two centimeters. The car is even 3.5 inches or 9 centimeters shorter than the Scaglietti. The result was a car for four people and exactly what Ferrari had in mind. Moreover, it also seems that the Ferrari design later used for the Ferrari 599 GTB Fiorano.
With the rear seatbacks folded down and the redesigned fuel tank there is a flat trunk platform one meter and 40 centimeters deep. Compared to the 240-liter loading capacity of the Scaglietti, the loading capacity offered by the GG50 stretches to 270 liters, which, with the rear seatbacks folded down, increases to 500 liters.
Practically imperceptible is the hatchback door. The GG50 seems to have a classic trunklid hinged under the rear window. However, the rear window as a whole lifts up along with the trunklid and, as such, is a proper hatchback door.
Interior design changed by sloping the rear window at the side. Enhanced headroom was gained, thereby making it much easier to get in and out of the car than expected. Another change with respect to the Scaglietti was the respositioning of certain commands and controls found by tradition on the left-hand side, such as the lights and the electric handbrake to the right-hand side of the dashboard. Brand new is the dashboard, fitted in the center of which is the AVIC – X1R satellite navigator by Pioneer.
Only one piece has ever been made.