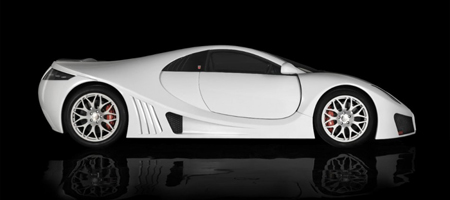 Spanish racing company GTA Motors run a pair of cars in the Formula 3 championship, apart from that, they've just released the final production version of their new Spano supercar. It's designed to compete at a higher level than Ferrari and Lamborghini and perhaps even the likes of Pagani and Koenigsegg.
Only 99 cars will be produced excluding a few special editions the company has yet to announce. It features a 8.3 liter V10 mid mounted, supercharged engine with 780bhp and 679lb-ft of torque. This is delivered to the rear wheels through a seven-speed sequential-manual gearbox. An interesting fact is that the company will convert the engine to run on Bio-ethanol which releases an extra 60bhp, 840bhp total.
The chassis and monocoque is pure motorsport, it's a mixture of kevlar, carbon fiber and titanium. This is joined to a double wishbone suspension set-up with adjustable shock absorbers and carbon-ceramic disc brakes with six-piston calipers. The Pirelli PZero tires are wrapped on 19 inch wheels at the front and 20 inch wheels at the rear.
Weight is down to 1,350kg (2,976lbs) which means the car should be able to do 0-62mph (100kph) in less than 3 seconds and on to a top speed in excess of 217mph (350kph).
It will be distributed in China, the Arab Emirates, the US, Russia, Germany and Italy. The price is not yet known.
[Via GTA]