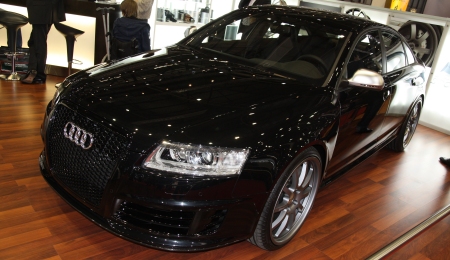 Next to several Porsche drivers Sportec can help you out as an Audi driver with a refining package for the Audi RS6. The package contains of a performance increase of the 5.0 litre V10 Biturbo engine changing the original catalysts by high-performance catalysts with higher flow rate. But that's not all.
The originally installed exhaust system can be substituted by a Sportec high-performance exhaust system with four 76mm tail pipes and a sportive sound. The new programming of the engine control unit within the RS6 will establish a maximum output of more than 700 HP. The torque increases up to 800 Nm, which results a 0 to 100 km/h in 4.0 seconds, 200 km/h in only 12.0 seconds and a electronically regulated top speed of 310 km/h.
Sportec lowers the body by 30 millimetres. The RS 700 is placed on 265/30 tyres which are mounted on special light 22 inches Sportec Mono/10 rims. The overall package is complemented by a carbon front spoiler lip and carbon rear diffuser.