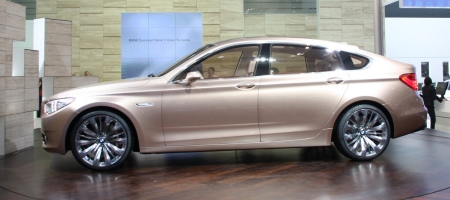 We have the SUV, MPV, SAV, etc…. BMW decided to add another segment incorporating BMW driving dynamics, quality, and style into a new type of vehicle. The new BMW Concept 5 Series Gran Turismo is BMW latest addition to the family and called a Progressive Activity Sedan (PAS) vehicle.
The concept car combines the looks and appearance of a sporty sedan, a modern Sports Activity Vehicle and a classic Gran Turismo. BMW's idea behind the car makes it ideal for long trips while still offering a dynamic driving experience in everyday traffic or short jaunts.
With its exterior dimensions the Gran Turismo fits between the 7 Series and 5 Series. BMW's new Gran Turismo showcased 21-inch light-alloy wheels. The new GT will be riding on 18- to 21-inch wheels. All-wheel-drive will be an option in the package.
If you look closely at the design you see similarities to the X6, but the 5 GT has a taller roofline arc ensuring more headroom on the back seats. In many ways, the 5-Series GT is like a scaled-down X6.