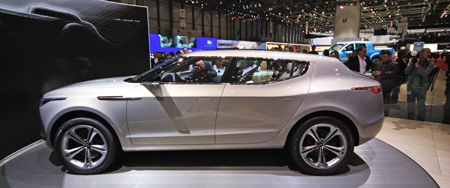 This morning Aston Martin CEO Ulrich Bez revealed the new Lagonda Concept. This is not only a completely new car but also the revival of the brand Lagonda. The Lagonda Concept, designed by Marek Reichman, is a luxury avantgarde concept that once build should be ideal for long trips in full luxury.
The design of the Lagonda Concept bears some resemblance with the old Lagonda LG6 designed by W. O. Bentley in 1938. It's not an SUV but the increased ground clearance and 4WD make it more suitable for long trips regardless of where you go. This opens up a whole new market for Aston Martin and the Lagonda brand should not only offer a different product to current Aston Martin clients but also appeal a new and different audience. This includes other parts of the world like Russia, the Middle East and Asia.
Aston Martin started working on this concept car 5 months ago but the revival of the Lagonda brand is part of a long-term strategy. The Lagonda is still in it's earliest development stages so it's to early to give any indication on the timeline. High customer demand and interest might speed up the process, the respondses at the show are very positive and we hope it goes in production faster than expected.
In the Lagonda interior only high quality and luxury materials have been used. The car has four seperate seats and there's more than enough room in the spacious cabin for four adults.
Lagonda Concept:

Press Photos:

PRESS RELEASE

Lagonda: Revival of a Luxury Brand

Aston Martin is proud to announce the return of Lagonda, one of the oldest and most iconic names in luxury car manufacturing.

The revival of Lagonda fulfils a long-term vision and will bring performance luxury into new markets and territories around the world for Aston Martin Lagonda. Ultimately, Lagonda will be a strong presence in 100 global territories, vastly increasing the global brand reach of the company and extending to new customers.

Reflecting its remarkable history, the brand will return to Russia, enter emerging markets in the Middle East, South America, India and China, as well as responding to demand from the dynamic, innovation-focused consumers of Europe, North America and the Far East.

"The Lagonda is the luxury car of the future,