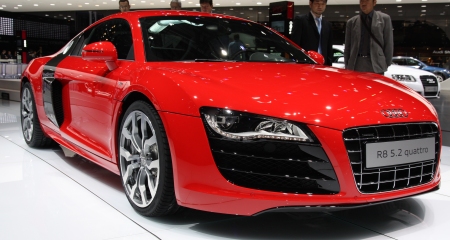 The new Audi R8 V10 wasn't anything new for us all, but we decided to have a closer look at this new family member of the R8-series. The car was displayed at the Geneva Motor Show and painted in a nice red colour.
Next to some close-up pictures of the R8 V10 we checked some changes between the 'normal' R8 and the new V10-version. If you look closely at the pictures you will notice that the LED headlights for the main and dipped beams changed. A new rear diffuser has been added to the car to create more down force. Twin oval tailpipes replace quad exhaust of the V8 version, but if you take a closer look inside the tailpipe there are still four pipes.
The new engine closes the gap between V8-version of the R8 and the Gallardo LP560-4. Both use the same engine. The 5.2 liter engine produces 528 bhp. You can have it in a six-speed manual or a semi-automatic box. The new 0 to 60 mph time is 3.9 seconds and it delivers a top speed of 196 mph.