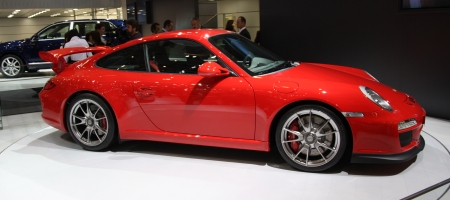 We all knew the new 997 GT3 was coming. Today we had a chance to see the facelifted Porsche 997 GT3 in real life and once again Porsche managed to improve it's predecessor on two core features: performance and driving dynamics.
The maximum output of the six-cylinder has increased to 435 bhp, 20 bhp more than the former model. Performance on the road improves accordingly now accelerating to 100 km/h in 4.1 seconds and achieving a top speed of 312 km/h or 193 mph.
The GT3's down-force is more than doubled over the former model. Another improvement is the fact that the GT3 comes with the PSM Porsche Stability Management. You are able to switch on and off in individual stages.