Welcome to Austin, Texas and welcome to the Mercedes-AMG GT 63 S 4Matic+ 4-Door Coupé. Really, that is the full and official name for the two-tonne behemoth sitting in front of me that represents something quite important for Mercedes-AMG. You see, this is not a Mercedes-Benz, it is a pure AMG product like the AMG GT family and the old SLS. It has been designed from the ground up to be an AMG car, not an adapted family saloon like the C, E, S or any other AMG tinkered products.
In an industry where niches within niches present new opportunities, we are seeing wider product ranges that ever before. It is no secret that the Porsche Panamera has inspired cars such as the AMG GT 4 Door. I've travelled across the Atlantic to see what the most potent flavour, the AMG 63 S 4Matic+ is like on track and, more significantly, on the street.
So whats all the fuss about? Well the top tier AMG product has an engine that fits the halo status it currently holds. The numbers are, frankly, bonkers. I'm sat behind the alcantra clad wheel of a 4-door saloon with a handcrafted V8, all-wheel-drive, 5-seats (in this configuration) car, with a hefty 4-litre V8 that it pumping out a supercar worthy 639 horsepower combined with a gargantuan 900 newton metres of torque. To make it all a little more manageable in the two tonne dress of the AMG GT 4-door package there is AMG Ride Control+ air suspension, AMG Rear Axle steering, electronically adaptable rear differential and dynamic engine mounts. 0-100 time? 3.2-seconds…blimey!
What's it like inside? Leaving the quiet hotel in the 63 S was a very calm affair. The interior is a pleasant place to be, the seats are comfortable and the surroundings are familiar Mercedes-Benz with the highest quality materials around. There is room in the back and it is even more welcoming in the four seat configuration. The telltale AMG GT V8 shaped central control tunnel has been reinstated in the 4-door coupe with a significant change – the TFT colour display buttons that have been squeezed into the buttons. These look very cool, almost like something from Ironman. In reality, there is not much of a purpose to these, but it is a clever touch. Continuing with snazzy little screens, there are more on the steering wheel. These can be swapped and scrolled through meaning a whole host of driving modes and independent vehicle dynamics can be altered without taking your hands off the wheel.
Mercedes-AMG GT 63 S GT 4-Door Details
Back to the car on the road. In Comfort mode the car is quiet, soft and supple. This is not different to a bog standard E Class with a few special options and a V8 raw when you reach kick down with the noisy pedal. The air suspension soaks up unwanted intrusion from horrible road surfaces. The window line is very high on the doors and the actual windows themselves are fairly narrow.
It gives a nice feeling of smugness but visibility is still great. The usual mod cons such as adaptive cruise control and lane assist make long highway drives a doddle. In all honesty, it's a bit boring. I guess it gives you time to explore the onboard computer and infotainment which, in my mind, has become far to complex and difficult to navigate without the scroll wheel we became so accustomed to. That being said, the choice of dials and information displayed on the dashboard is fabulous and delicious to look at.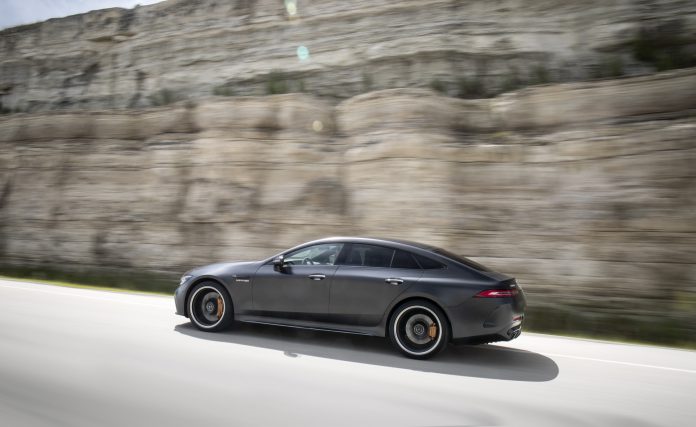 Feeling a little jet lagged and wanted to inject some life into the drive to the racetrack, I engaged sport plus from the steering wheel mounted drive mode selector and shifted down a couple of gears on the nine speed gearbox. Things get loud, I stamped on the pedal and, my word, the NINE HUNDRED newtons catapult the savage machine towards the next junction without a care in the world for speed limits or armed sheriffs. The acceleration is not anything I've experienced in a saloon car before, I suspect even a BMW M5 would be left for dead.
The addictive acceleration had me at the racetrack in no time. Oh yeah, the racetrack – The Circuit of The Americas. This is the stuff that dreams are made of and after another espresso, it was time to hit the circuit. This is a challenging track, I guess that makes sense when I'm normally watching people with surnames like Hamilton, Vettel and Alonso driving around here on a Sunday afternoon. It is technical, it is blind…it's damn scary.
Mercedes-AMG GT 63 S 4-door COTA
In my mind, this is one of the worst places to demonstrate the characteristics of a heavy saloon car. My first five lap session proved my hunch was correct. The car just didn't feel sharp, on its toes or light. It was cumbersome, it felt like it struggled to handle its weight and just could not haul itself out of corners like the numbers would suggest, even in Race Mode with the four wheel steering doing its best.
And then it dawned upon me that it might have been those systems that were stopping me from making a huge mess of things on the road that made things a little yawn inducing on track. I headed back out and set the ESP to sport. Never has a single button made such a dramatic change to the driving dynamics of a car. The power is more readily available, there is a reasonable amount of slip and slide from the torque overwhelming all four of the Michelin Pilot Sport 4S tires.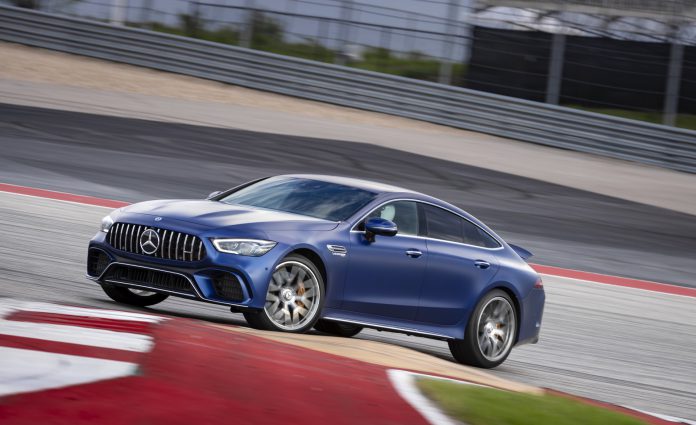 This means you need to be cuter with the throttle, but if you get it right after the apex the GT 4-Door blasts out of corners with ferocity and firepower that no other saloon car does. Don't forget, 900 Nms! There is even a smudge of feedback through the steering and you can feel what the chassis is doing through your backside. You can slide the car with the confidence that the all-wheel-drive systems give you. It is magic and something that inspires confidence. The carbon ceramic brakes only add to the feeling that you can go even faster.
The way this car feels on track is, honestly, not so relevant. Very few owners would drive such a car on a circuit, thats what that AMG GT R is for, but it is amazing to see that it CAN and WILL let you have fun and allow you to engage with the limits on a circuit. It is fascinating how that AMG DNA can be applied to such a wide range of products and still thrill. The mammoth power will always dominate on the street, always there waiting on spooled turbos to catapult you towards your destination. It is great to see that this is not a one trick pony, but an entertaining, amusing car with massive capabilities as well as street presence.