Porsche have announced a limited edition version of the Porsche 911 GT2 RS, set to be built in extremely limited numbers. Just 77 of the reimagined Porsche 935's will be produced. They will share nomenclature with the iconic 1970's race car. The modern day Porsche 935 will be restricted to the race track.
The Porsche 935 badge was first used in 1976. An evolution of the Porsche 930 Turbo, the Porsche 935 dominated race series in the late 1970's. It won the 1979 24 Hours of Le Mans overall, and other major endurance races, including Sebring, Daytona, and the 1000 km Nürburgring. 935's were entered into 370 races, it won 123.
The 2018 version features less performance than the 1970's model, ironically! Based on the Porsche 911 GT2 RS, it gets a 3.8-litre six-cylinder twin-turbo engine, virtually identical to the road-going model. Power is rated at 700 hp, routed to the rear wheels through a seven-speed PDK gearbox. It weighs just 1,380 kgs.
The differences are in the looks. The Porsche 935 gets styling cues from the 935 race cars. The "Moby Dick" look will be instantly recognisable. The elongated rear end helps the 935 reach a length of 4.87 metres with the wider wheel arches extending to 2.03 metres.
It gets an elongated rear end, massive fairings and a white base colour. Wheel arch air vents on the front fairings are inspired by the Porsche 911 GT3 R customer vehicle, the rear wing lends aerodynamic balance. Aerodynamically capped rims echo those of the 935/78, while the LED rear lights on the rear wing endplates are adopted from the 919 Hybrid LMP1 race car design. The side mirrors are taken from the current 911 RSR, with the exposed titanium tailpipes modelled on the Porsche 908 from 1968.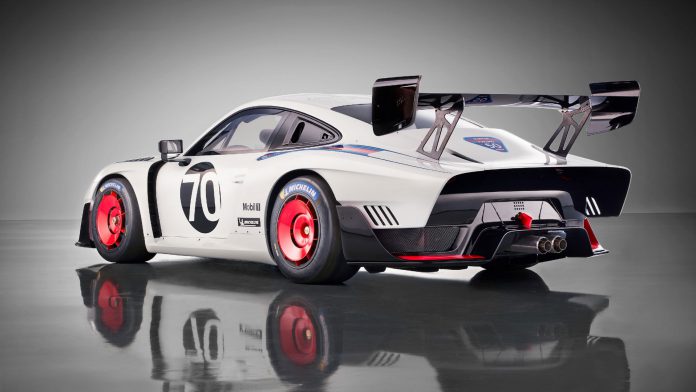 References to these cars are carried through to the cockpit. The knob on the gearshift lever has a laminated wood design inspired by the 917, the 909 Bergspyder and the Carrera GT super sports car. The carbon steering wheel and the colour display behind it have been taken from the 911 GT3 R. Modern safety cage, racing bucket seat and a six-point safety harness ensure maximum safety. A second seat is available as an optional extra. Air conditioning is fitted as standard.
Stopping power is provided by a set of six-piston aluminium monobloc racing callipers on the front axle. These are combined with 380 millimetre internally ventilated and grooved steel brake discs. The rear axle is fitted with four-piston callipers and 355-millimeter discs.
The colour on the display car is agate gray with an optional Martini livery. Pricing is 701,948 Euros plus country-specific VAT, although in all likelihood, it is completely sold out. Deliveries are due to begin from June 2019.